Justin Hein
Happy Birthday, Silent Cal.
Updated: Jul 8
Today marks President Calvin Coolidge's 150th Birthday - the only President of the United States born on July 4th
30th President of the United States, from August 2, 1923, to March 4, 1929. The only president to be sworn into office by his father. The first president to have his inauguration heard on the radio. The first president to have a Christmas tree at the White House. The first president to appear in a "talkie" - a motion picture with sound. He is John Calvin Coolidge, Jr.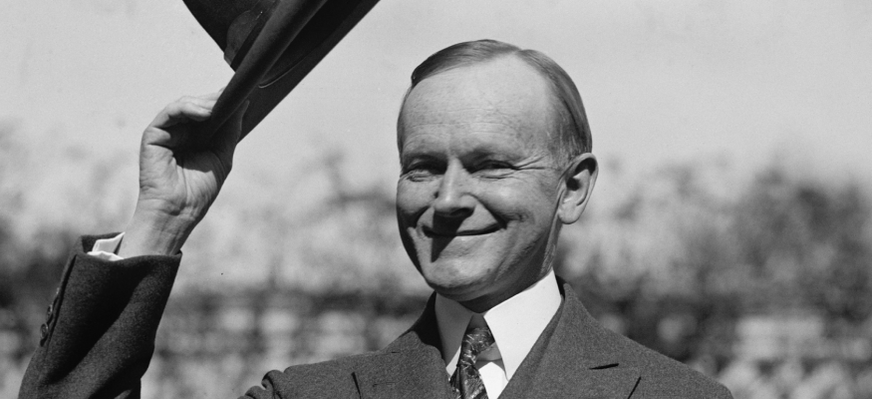 Knowledge comes, but wisdom lingers. It may not be difficult to store up in the mind a vast quantity of facts within a comparatively short time, but the ability to form judgments requires the severe discipline of hard work and the tempering heat of experience and maturity.
He was born on July 4, 1872, in Plymouth Notch, Vermont. Raised on a farm, Calvin soon dropped his first name of John, as it was his father's name. He went on to attend Amherst College in Massachusetts and then interned at a law firm. Calvin was admitted to the bar in 1897. The following year, he opened his own practice, where he earned a reputation as hardworking and diligent. Calvin was a quiet man and the complete opposite of his wife, Grace Anna Goodhue, who was quite talkative and social. The two married in 1905 and had two children.
From 1910-1911, Calvin served as mayor of Northampton. In 1912, Calvin was elected to the Massachusetts Senate. In 1918, Calvin was elected Governor of Massachusetts, and, in 1919, he brought national attention to himself for how he successfully dealt with a police strike regarding their ability to join a union. When labor leaders called on him to support their demands for reinstatement of police officers who had been fired for striking, Coolidge refused, summing up his reasoning in a single sentence that reverberated throughout the country: "There is no right to strike against the public safety by anybody, anywhere, any time."
In 1920, Calvin was chosen as the Republican vice-presidential candidate, with then-Senator Warren G. Harding of Ohio as the Presidential candidate. The duo was handily elected, winning every state outside of the South.
As Vice-President, Calvin did not have many official duties. However, President Harding invited him to attend cabinet meetings, a first for vice-presidents. It was during this time that his nickname of "Silent Cal" took ahold. He and his wife were often invited to parties, where Calvin would rarely speak. When asked why he continued to attend parties that he did not seem to enjoy, Calvin replied, "Got to eat somewhere."
On August 2, 1923, President Harding died suddenly while on a speaking tour in California. After several hours, a messenger arrived to inform Calvin that he was now the 30th President of the United States of America. Since the Chief Justice of the Supreme Court, who traditionally swore in the President, was 500 miles away, Calvin was sworn in by his father, a notary republic, at 2:37 am.
As president, Calvin presided over the era known as the "Roaring Twenties." Calvin disliked government regulation and reduced the size of the government. His policies and reducing taxes were effective in decreasing the federal debt. However, the reduction in government led some to blame him for the Great Depression that would follow in the next decade.
Calvin was in favor of civil rights, refusing to appoint any known members of the Ku Klux Klan. Rather, he appointed African-Americans to government positions and advocated for anti-lynching laws. He signed the Indian Citizenship Act, which gave full U.S. citizen rights to all Native Americans.
As President, Calvin Coolidge was rather popular. This was the case despite him having severely limited his working hours - he insisted upon afternoon naps. He also refused to use the telephone for official presidential business. Calvin did call and talk to his father every day though.
Running on the slogan "Keep Cool with Coolidge," he won a landslide victory over conservative Democrat John W. Davis and Progressive Party candidate Robert La Follette, gaining about 54 percent of the popular vote to Davis's 29 percent and La Follette's nearly 17 percent; in the electoral college Coolidge received 382 votes to Davis's 136 and La Follette's 13.
Both his dry Yankee wit and his frugality with words became legendary. His wife, Grace Goodhue Coolidge, recounted that a young woman sitting next to Coolidge at a dinner party confided to him she had bet she could get at least three words of conversation from him. Without looking at her he quietly retorted, "You lose." And in 1928, while vacationing in the Black Hills of South Dakota, he issued the most famous of his laconic statements despite his popularity and high-likelihood for re-election, "I do not choose to run for President in 1928."
Instead, Calvin retired to Northampton. There he wrote a syndicated newspaper column, several magazine articles, and his autobiography (1929). And also there, a little less than four years after leaving the White House, he died in his home of a heart attack on January 5, 1935, while preparing to shave his face. Calvin was 60 years of age.